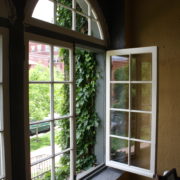 We handcraft traditional wood sash at our mill shop in Denver, Colorado.  We can reproduce any light pattern and match any finish so that your new sash will blend seamlessly with your existing windows in Denver, Colorado.  While replacement windows abandon the existing window, our replacement sash is designed to fit perfectly within the historic jamb.  Replacement windows change the sightlines and glass size of your old window and rely on flimsy operating systems.
Our custom sash will retain the traditional profile and make use of the existing counterweight system.  All of our sash comes with modern weather stripping integrated into the sash to provide an airtight fit without detracting from the beauty of the wood. We are the ones to call for window sash in Denver, Colorado. 
(learn more about counterweight operation)
(what is a "sash"?)
Traditional Putty Glazed Sash
The most beautiful window sash in Denver, Colorado is not a design that we can take credit for.  It is the same window sash shown on the original blueprints for your home with an elegant roman ogee on the interior and linseed oil based putty glazing on the exterior.  Our team of craftspeople will create this elegant sash using the same methods and materials that were used 100 years ago.  We can even use the "wavy" historic glass to fully reproduce their original charm.  With the addition of a low-e exterior storm window, this style of window can be just as energy efficient as any modern double-pane window!
(learn more about storm windows)
(learn more about windows and energy)
(find out about pricing)
Traditional Wood Stop Sash
Echoing the same traditional profile, our wood stop sash has a wood detail on the exterior that mimics the putty line with an interior glass bead that mimics the roman ogee.  The end result is nearly identical in every way to the traditional putty glazed sash but at a lesser cost for those who love the charm of the traditional sash but are working to keep the project on budget.
(find out about pricing)
Double Glazed Sash
Our "double-pane" window that can triple your energy efficiency! We designed this sash to incorporate an argon filled the insulated glazing unit with double low-e coatings into a traditional wood sash for those who wish to achieve the modern energy ratings without the use of a storm window.  This sash will be twice as heavy as your original sash and will need to have new counterweights added to accommodate the additional weight.  This sash has an exterior wood detail that mimics the traditional putty line and a decorative interior glass bead.
(find out about pricing)
We specialize in windows, but also offer a comprehensive approach to whole-building performance and appearance. Our success is marked by our attention to detail and our ability to provide a turn-key service that includes planning, installation, and maintenance. If you are looking for window sash in Denver, Colorado, Lyons Historic Window are the pros to call!